Product SKU
JTC-4933
Brand
JTC
Availability
In Stock
Shipping Fee
Quantity
Description
JTC-4933 3/8" WINDOW SCALE ADJUSTABLE TORQUE WRENCHES (5-50Nm)
• Worldwide patent.
• Chrome-vanadium ratchet gear and fully heat treated handle.
• Guaranteed to meet ISO 6789, U.S.Fed.GGG-W686D and ANSI Spec.
• Factory calibrated for accuracy to within ± 3%
(of reading form B107.14M. 20~100% maximum range).
• Window is equipped with convex for scale viewing.
• Operated by unique pull-push system.
• Torque wrenches are precision tools and are not designed for
use in loosening bolts and nuts.
• Each set contains calibration certificate.
| | | | | | |
| --- | --- | --- | --- | --- | --- |
| Item | Dr. | Range of the Torque | Length | Gear Teeth | Type |
| 4932 | 1/4" | 5~25Nm/4~18lb.ft | 290mm | 45T | B |
| 4933 | 3/8" | 10~50Nm/9~35lb.ft | 360mm | 45T | A |
| 4934 | 3/8" | 20~100Nm/15~70lb.ft | 405mm | 45T | A |
| 4935 | 1/2" | 20~100Nm/15~70lb.ft | 405mm | 45T | A |
| 4936 | 1/2" | 40~200Nm/30~140lb.ft | 500mm | 45T | A |
| 4937 | 1/2" | 60~300Nm/45~220lb.ft | 595mm | 45T | A |
| 4938 | 3/4" | 110~550Nm/85~405lb.ft | 970mm | 24T | A |
| 4939 | 3/4" | 150~750Nm/115~550lb.ft | 1150mm | 24T | A |
| 4940 | 1" | 200~1000Nm/150~730lb.ft | 1250mm | 24T | B |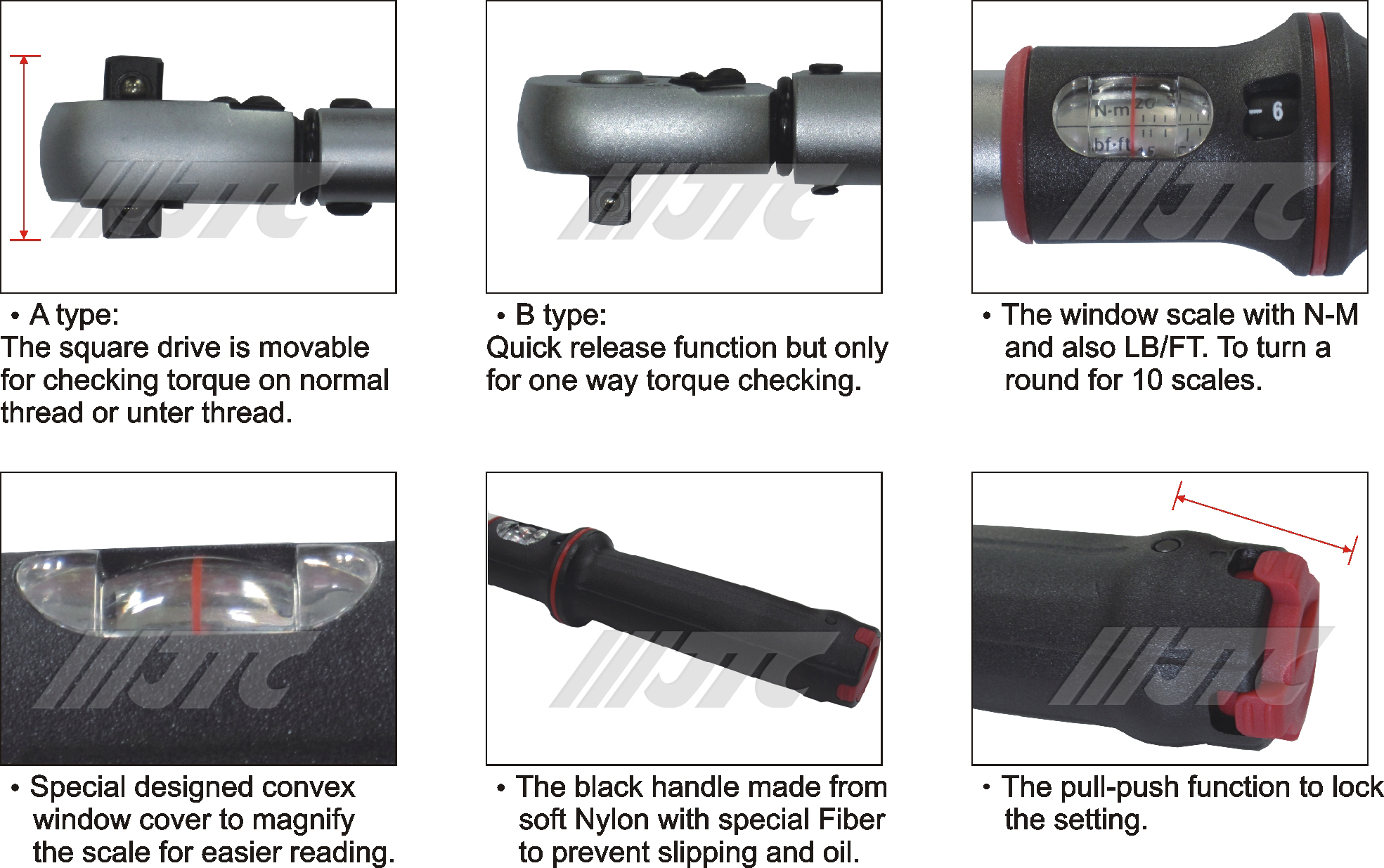 Reviews (0)
view all
back